Local Representation When You Need It Most
Richard Schwartz & Associates, P.A., is proud to announce the ground-breaking of a new office located in Hattiesburg, Mississippi. We had a celebratory ribbon-cutting ceremony on September 20, 2023, with local businesses, news outlets, doctors, and other community members in attendance.
At Richard Schwartz & Associates, we represent individuals who have been injured in accidents throughout Mississippi. Our firm is committed to providing local representation for our clients. We know the importance of being connected with the community and of being able to meet with your legal team at an office that is convenient for you and your family. 
If you have any legal questions or have been involved in an accident, contact our office at (601) 988-8888 to schedule a free consultation or visit our new Hattiesburg location for the groundbreaking ceremony!
Ground-Breaking Ceremony - September 20th
Our firm would like to invite you to tour the newly-renovated office. At our ribbon-cutting ceremony, a remote radio show with KZ 94.3 was hosted from 2:00 p.m. to 4:00 p.m. We encouraged community members to not only come meet Team Schwartz, but also to bring a copy of their current auto insurance policies for a free review. We also gave out swag and a free TV at the ceremony.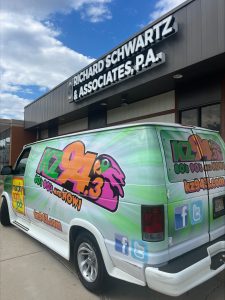 Proudly Serving the Hattiesburg Community
We are honored to be able to serve injury victims throughout Hattiesburg and the surrounding areas. The opening of our new Hattiesburg location will continue to aid our commitment to provide high-quality legal representation to our clients. 
Our lawyers are here to help you and your family. We have over 40 years of experience serving clients throughout Mississippi and will not rest until we get you the best possible outcome in your case. If you have been injured or lost a loved one in an accident caused by another person's negligence or wrongdoing.
Why Richard Schwartz & Associates?
The legal team at Richard Schwartz & Associates is compassionate, honest, and dedicated to ensuring that our clients receive a fair and full settlement for their injuries. Our firm was built on the principles of integrity and accountability. It is with this foundation that we begin every case, always putting our clients first.
We also believe that by partnering with local communities we can help to achieve more for our clients. We know that the ability to walk into your attorney's office and meet with legal staff is critical. Local representation can make all the difference in a case. We are excited and thrilled to bring our services and a newly renovated office to the people of Hattiesburg.
Contact Our Office for a Free Consultation
Contact our office today at (601) 988-8888 to schedule a free, no-obligation consultation. If you are in the Hattiesburg area, feel free to come tour our new offices or attend our ribbon-cutting ceremony!