Community Building Throughout Jackson, MS
Giving back to the community is a cornerstone of Richard Schwartz & Associates, P.A. We believe that supporting local charities and non-profit organizations is critical, and we continue to contribute through volunteerism, sponsorships, and donations.
Our Schwartz Supports is an extension of our legal practice that continuously reviews requests for giving. We work year-round to help people throughout Mississippi not only recover after an accident or injury but also to get back on their feet or to receive the support they need. 
Here is what Schwartz Supports has been up to this summer:
Blood Drive in Partnership with Mississippi Blood Services
On July 12, 2023, we partnered with Mississippi Blood Services to host a blood drive. Our firm donated 78 units of blood. Mississippi Blood Services is a non-profit organization that was founded in 1979. It is the only FDA-licensed blood center headquartered in the state to help manage the blood supply in MS.
Blood donated through Mississippi Blood Services goes to help individuals who are in need of a blood transfusion, including surgery patients, car accident victims, and cancer patients. Hundreds of pints of blood are needed each day to help those in need. Donating a unit of blood can help save a life.
Midtown Pearl SummerFest
Our firm was a proud vendor at Midtown Pearl SummerFest 2023. The event closed down Main Street Pearl with its first Town Market on Old Brandon Road. On July 15, from 10 am - 4 pm, people could travel from booth to booth to see locally made candles, art, and other items.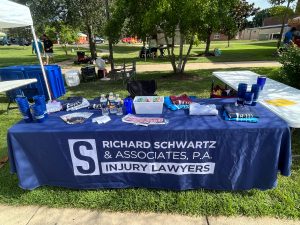 Dog Gone Dition Festival
At Richard Schwartz & Associates, we are honored to be a "Love & Unity" level sponsor of the Dog Gone Dition Festival to be hosted on August 5, 2023. The free event will be held in West Jackson on Washington Street between Hill Street and Jones Ave. It strives to offer relief to children who are less fortunate than their peers and to promote equity in education.   
The Dog Gone Dition Festival is in its 13th year and is founded on the belief that everything should be free. Children are provided with free back-to-school supplies as well as free food, entertainment, and guest speakers.
Prior Charity Work through Schwartz Supports
In addition to our work this summer, we have proudly supported several other organizations in the past. Some of our most memorable events include teaming up with WAPT for a turkey drive, where we were able to collect over 2,000 turkeys for families in need. 
We have also worked with the Make-a-Wish Foundation, Children's of Mississippi Radiothon, Catch a Dream, and the Brain Injury Association of Mississippi. Our legal team is dedicated to giving back and has made it our mission to support the local community in any way we can. 
For over 40 years, we have been working with non-profit organizations to help make a difference and are honored to be able to continue giving to these important causes. To learn more, contact our office at (601) 988-8888.